Jakarta –
Samsung is well aware that it is not the first to present OLED TVs in Indonesia. Because of this, they provide their devices with a series of superior features which they claim will spoil the eyes and ears of their users.
"The Samsung OLED TV that we are introducing has excellent picture quality, immersive audio quality, advanced smart features and the coolest design," said Ubay Bayanudin, Head of Product – AV Business, Samsung Electronics Indonesia at the launch event in Jakarta, Tuesday (19/9/2023).
"Because of this, Samsung OLED TV will be an alternative choice for consumers to create world-class entertainment," he added.
Advantages of Samsung OLED TV
There are a number of advantages that Samsung OLED TV has compared to competitors. Anything:
1. Full RGB OLED Display
According to Ubay, the most significant differentiator from competitors is the image quality. Samsung OLED TV adopts Full RGB OLED Display technology which has been Pantone validated.
This technology is combined with self-illuminating pixels so that it can produce 100% color volume, making the Samsung OLED TV capable of displaying deep blacks and clean whites, up to billions of color variations at all levels of brightness.
2. Neural Quantum Processor 4K
The second advantage is that the Samsung OLED TV is supported by a 4K Neural Quantum Processor which will convert old content into 4K equivalent. This 4K AI upscaling technology relies on 20 neural networks to analyze images in old videos, adjusting brightness and contrast levels automatically, to produce content with better image quality.
"The more content that is played, the AI ​​will make the image look better," said Ubay.
Ubay Bayanudin, Head of Product – AV Business, Samsung Electronics Indonesia. Photo: Adi Fida Rahman/detikINET
3. Quantum HDR OLED and OLED Brightness Booster
Quantum HDR OLED and OLED Brightness Booster technology will allow players to see the slightest details in every scene, whether the scene is dark or bright. Deep Learning technology improves brightness and contrast in each pixel, so that bright images become clearer and blacks appear in true quality, without losing detail.
"Images that should look bright are made really bright, and images that should be darker are made darker, resulting in contrast and detail that cannot be missed in dark situations," explained Ubay.
4. Multi-view
Samsung OLED TV is equipped with a Multi-View feature which means families can still gather together while watching different content on one TV screen. With this feature, the TV displays up to 2 different screens with separate sound that can be heard via Galaxy Buds.
5. Dolby Atmos speakers
Samsung OLED TV uses Wireless Dolby Atmos sound technology for 3D surround quality. This device can also emit sound not only from two sides but also from the top, bottom and even the back.
Thanks to the combination of the Object Tracking Sound+ (OTS+) feature, a 4.2.2 channel multi-directional speaker and 70 watt output will produce sound quality that moves dynamically following the movement in the scene being watched.
This TV also has a Q-Symphony 3.0 feature which harmonizes the sound produced by the TV and the Soundbar device, to produce overall immersive sound in the home cinema room.
6. Game Mode
To answer gaming needs, this Samsung TV is supported by 4 HDMI 2.1 ports so it is easier to connect to various favorite game consoles. It doesn't stop there, the Motion Xcelerator Turbo Pro (4K@144Hz) feature allows users to enjoy a gaming experience with visuals that remain sharp and clear even when playing high-speed games in 4K resolution.
There is also an AMD FreeSync Premium feature that will properly synchronize the TV frame rate with the GPU, so that users will enjoy gameplay without tearing and stuttering effects, and with low latency. Meanwhile, the Game Bar 3.0 panel is presented to make it easier for users to access all game features, and Minimap Zoom helps users have single-point visibility up to a 16:9 ratio.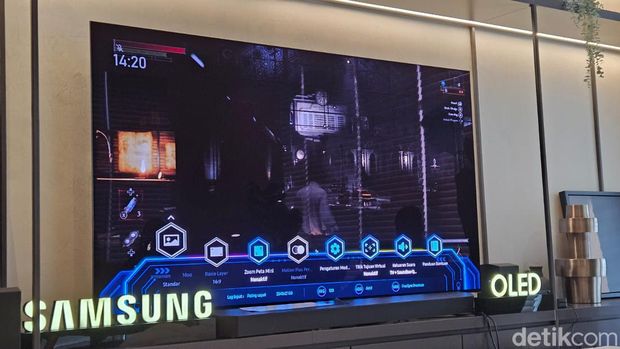 Game Bar 3.0 on Samsung OLED TV Photo: Adi Fida Rahman/detikINET
7. IoT
This Samsung OLED TV also provides an intuitive smart TV experience. By connecting to SmartThings, users can run the 3D Map View UI and manage various smart devices at home and check their electrical power usage.
This TV also has an IoT Hub built-in. This feature allows users to manage various IoT devices at home.
8 Security
No less important are the security features. Samsung equips OLED TVs with the Knox Vault solution so that users are safe from increasingly rampant cyber crime.
Samsung Knox Vault will encrypt all information on connected devices, ensuring all data and information such as PINs and IoT Keys are protected and cannot be misused.
Furthermore, Knox Vault can also provide real-time protection from malicious attacks with the latest updates and in addition can protect your device with a high level of security.
9. Green Technology
Samsung has installed AI Energy Mode which can optimize the use of electrical energy. This is done by controlling the brightness so that it reduces power consumption without disturbing the content.
Samsung OLED TV is also equipped with the latest SolarCell Remote which does not require batteries. This remote can charge itself independently by absorbing energy from lighting in the house, and some of the plastic used is recycled material.
10. Design
Uday claims that Samsung OLED TV has the best design compared to its competitors on the market. Because this device has a bezeless screen and a thin body.
"The thickness of this television is only 12 mm, while others can reach 50 mm," said Ubay.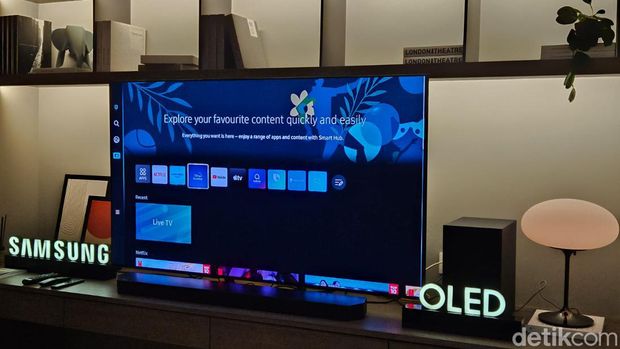 Samsung OLED TV Photo: Adi Fida Rahman/detikINET
Samsung OLED TV prices
This OLED TV can be purchased via Samsung.com or offline electronics stores throughout Indonesia. Samsung OLED TV is available in a choice of screen sizes, namely:
The Samung S90C 55 inch OLED TV costs IDR 24,999,000
Samung OLED TV S90C 65 inch costs IDR 38,999,000
Samung OLED TV S90C 77 inch costs IDR 69,999,000
The Samung S95C 65 inch OLED TV costs IDR 43,999,999
Watch Video "The release of the Samsung Galaxy S23 FE is getting closer, here is the price leak "
[Gambas:Video 20detik]

(afr/fay)