Jakarta
–
Lee Han Byeol recalled one of the most unforgettable moments during the filming of the Mask Girl series. This Netflix series is the actress' debut into the world of South Korean entertainment. Mask Girl is now streaming on Netflix.
Getting his first big role through a Netflix production certainly made Lee Han Byeol flutter. Moreover, the character he plays is quite challenging, as the main character, and also has a personality that is quite unique.
In an interview with several Asian media which was also attended by detikcom virtually on Thursday (31/8/2023), Lee Han Byeol mentioned all the time he spent on set as precious time. This is because the working atmosphere created by all the crew is very good and fun.
"Everything is hard to forget. In fact, thanks to this protection, I have many colleagues," said Lee Han Byeol, who looked relaxed with his hair loose during the interview.
"The Mask Girl crew and the players also often have fun on the set. Everyone is very supportive of me, especially when my scenes are live streaming as Mask Girl," continued Lee Han Byeol.
Lee Han Byeol plays Kim Mo Mi in Mask Girl. Photo: doc. Netflix
Who would have thought that the scene that looked 'simple' on the screen would become the most challenging for him. The 1992-born actress needed time to prepare herself. The eyes that were on him on the set seemed to put a lot of pressure on him.
Luckily, the staff and crew of Mask Girl came up with a method that managed to reduce Lee Han Byeol's nervousness. They decided to play music and dance together during a scene where Mask Girl is appearing in front of the camera for a live stream.
"In the VJ (video jockey) scenes, I mustered up the courage for it because I was so nervous preparing for the scene. But everyone came up to me and held my hand, tapped me on the shoulder and they made me feel better. They also played music at a loud volume behind the camera and then dancing with me (who is currently a Mask Girl). I remember that, they supported me from behind the camera in that way," he explained.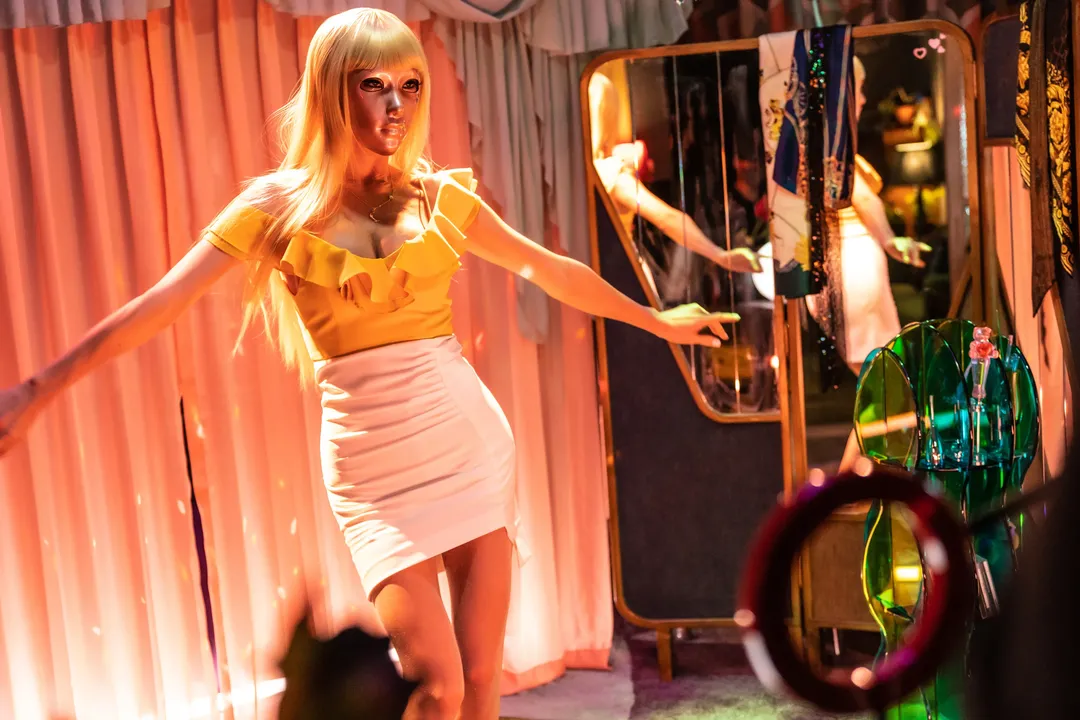 Mask Girl dancing scene in the Netflix series played by Lee Han Byeol. Photo: doc. Netflix
Speaking of dancing, apparently Lee Han Byeol had to recall his old memories when he was practicing ballet when he was little for the Mask Girl project. She chose to repeat her previous ballet training in order to be able to dance well in Mask Girl.
As a result even after production was over, he made it a hobby. In addition to other things like designing, reading, and writing.
"When I was little I took ballet classes, so I learned ballet again for this role of Kim Mo Mi. Ballet is also a good sport for me. After the production is over, I keep doing it. I also like spending time alone reading, writing, and because I also like to draw in college majoring in design," closed Lee Han Byeol.
(aay/dar)