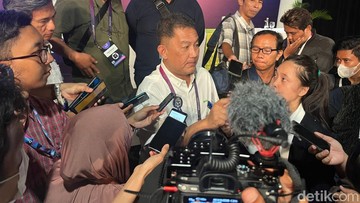 Jakarta –
PT Telkom Indonesia responded to the presence Starlinkan internet service made by Elon Musk. Director of Wholesale & International Service Telkom Indonesia, Bogi Witjaksono, said that his party cannot stop the rate of evolution that has been created. Therefore, collaboration is key.
"The evolution of this satellite occurred after Starlink entered, namely because the service from Starlink is already the same as optical absorption, it is the same as cellular. This is an evolution that we cannot brake," said Bogi when met at The Wisten Resort, Nusa Dua, Bali, Tuesday , (6/9/2023).
Therefore, Bogi said that they did not want to close themselves off from technological advances. However, to be able to do the same thing, he admitted that it was very difficult.
That's why according to Bogi, cooperation is a real way that can be done. This is because he is of the opinion that of all things related to digital, nothing can be done alone.
"Behind Starlink there is One Web again, behind One Web soon there will be AWS China. This is all coming in. So we don't want to close ourselves off to pressure from technology, but we have to make it like Starlink, One Web, wow that's not strong," said Bogi.
Well this time, Starlink is actually already present in Indonesia. Telkomsata subsidiary of Telkom, previously collaborated with this internet service, a partnership which has been in place since June 2022.
"In accordance with the permits granted by the regulator, Starlink services in Indonesia through Telkomsat are intended to complement backhaul-based services, so that they can bridge the backhaul infrastructure gap in Indonesia to support the acceleration of more massive digitization," said VP Corporate Communication Telkom Andri Sasongko when contacted detikINET (3/9).
Sadly Starlink the public still cannot enjoy it. The business model is still within the scope of cooperation with domestic companies, such as collaborating with internet service providers.
So in the future, duet results Telkom And Starlink This has been implemented with the presence of nine gateways, spread across various regions of the country. So far, the state-owned company has no plans to add gateways.
"It's just that here we happen to have built nine gateways. So all of these Starlink terminals go to gateways in Indonesia. So if, for example, Starlink is in Indonesia, actually the gateway is already in Indonesia already in Telkomsel," said Bogi.
As little information, previously during a meeting between Luhut Binsar Pandjaitan, Coordinating Minister for Maritime Affairs and Investment (Menko Marves), and Elon Musk some time ago, Starlink has the potential to enter Indonesian territory. The aim of this service is to help provide internet access in areas where telecommunications infrastructure on land is difficult to reach.
"We also discussed Elon's interest in collaborating to build a low-cost internet network in eastern Indonesia via his popular Starlink satellite," Luhut said in a recent post on his Instagram account.
Watch Video "Highlighting Starlink Elon Musk Will Enter RI"
[Gambas:Video 20detik]

(hps/fyk)